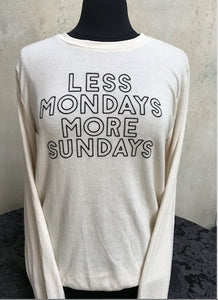 Women's Pullover Sweatshirt- "SUNDAYS COOL"
BLACK PULLOVER SWEATSHIRT "MORE SUNDAYS LESS MONDAYS" 
More naps and sweatpants, less miserable Monday mornings, please. 
You are going to Love this sweatshirts and want to take Naps all day!
For all the nap queens. 
Super soft pullover sweatshirt 67% Polyester 29% Rayon 4% Spandex blend.
Thumb Holes for extra comfort.
Made in USA and hand screen printed in Brooklyn, NY.