The Good Rubber Duck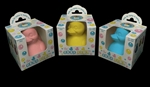 We've worked hard to make The Good Duck the safest rubber duck on the market. It is considered by many the only rubber duck that a baby should ever teethe on and all manufacturing, design, and 100% of the materials are made in the USA. When you click on the picture above you can scroll down to see pics of babies teething on them. Bottom line, the babies have spoken.....they love them!! In fact, due to consumer demand, we are now exporting them to China!

It might interest you to know that rubber ducks were originally an American invention, but now they are all manufactured overseas. CelebriDucks is pleased to lead the migration of The Rubber Duck industry back to The United States. Our Good Ducks are:

100% made in America!
PVC Free - Phthalate Free - BPA Free
Medical and Food Grade Materials
Safe for babies to teethe on
Soft to the touch
Recyclable
Completely Sealed to keep out water
Comes in a bright colorful gift box
Latex Free
Paint Free
Won't mold
The perfect duck for duck races to raise money for charity and get tremendous PR at the same time!


Why did we try to build a better duck? Through listening to Mommy Bloggers we became convinced that there were no rubber ducks on the market which were safe enough for very young children to put in their mouths. Absolutely none of the ducks were made from tested food grade and medical grade materials. Mothers complained that even the PVC free ducks had questionable materials which smelled like "chemicals," had peeling paint, did not float upright, and were hard as rocks. 

Mothers also complained that the natural latex ducks on the market caused allergies, degraded over time, took on water through the hole in the bottom, and were often found to have black mold growing inside. Finally the moms did not trust the integrity of overseas manufacturing facilities. 

Since the folks at CelebriDucks always listen to our Mothers, we created The Good Duck, 100% made in the USA with tested medical and food grade materials and completely sealed to keep out water. Please always feel free to write or call at any time. We look forward to hearing from you.


"Hi there! Just want you to know that our daughter LOVES her Good Duck! We can't even have it be a bath toy as she wants to hold it ALL the time! She is 8 months old, and it is her favorite toy. She even falls asleep holding onto it! We are going to buy another one in blue that is going to be a "just for baths!" toy. Thanks for making this safe and fun product that our little girl LOVES!"


Sarah and Luciano