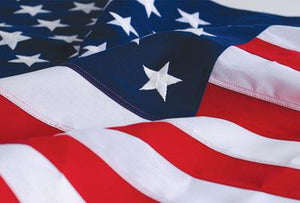 American Flag- Heavyweight 2- ply polyester
A DONATION TO "TAPS" (TRAGEDY ASSISTANCE PROGRAM FOR SURVIVORS)
WILL BE MADE ON EVERY FLAG PURCHASED FROM YOU-N-I-CAN
Outdoor Embroidered U.S. Flag
Allied Flag's Embroidered Polyester U.S. Flags are made from 2-ply polyester fabric, the most durable flag material available. While heavier than nylon flags, our Embroidered Polyester U.S. Flags have an open weave which reduces wind resistance, lessens abrasion and provides for longer wear and improved flyability. Designed for daily year round use, our 2-ply polyester flags are intended for consumers whose number one priority is a flag that outlasts all others.
Embroidered Polyester U.S. Flags have these quality features:
Made from 2-ply polyester - the toughest flag material available
Densely embroidered stars - ensures a beautiful star field*
Sewn stripes - back stitched for reinforcement
Fly hems - reinforced with 4 rows of lock stitching
Poly-duck header - snowy white and impervious to harsh weather
2 solid brass grommets - rust resistant
Our Embroidered Polyester U.S. Flags are best for:
States with high wind - our polyester flags feature an open weave that reduces wind resistance and prolongs flag life
Daily flying - polyester is designed to withstand year round, constant use
*Densely embroidered stars are standard on all US flag sizes up to and including 12' x 18' flags. US Flags larger than 12' x 18' have appliqued nylon stars. The largest US flags have additional stitching for added reinforcement and durability.
All Flags Made in the USA
As one of the nation's largest manufacturers of American Flags for the United States Government, you can take pride in knowing that your flags are the same quality as those flown above the U.S. Senate and House of Representatives.
Whether you choose nylon, polyester, or cotton; whether you choose a historical American flag such as the Betsy Ross flag or the current Old Glory, you can be certain that your Allied flag will be of the finest quality and is certified made in the USA.
Committed to "Made in the USA"
When you see our 100% certified seal, you will know that all materials and labor used in the construction of these products are Made in the USA.
Unlike most manufacturers, we own and operate a facility dedicated to embroidering the densely bright white stars which adorn our flags. All of our embroidered star fields are made in our 20,000 square foot plant in Louisiana. They are then shipped to our 80,000 square foot factory and distribution center which is located in Kansas City, Missouri.
As a quality supplier of flags and flag products, we have available a broad selection of products and sizes not shown. If you do not see the product you are looking for, please contact our Customer Service Department toll free at 1-866-497-FLAG.
FLAG POLE SOLD SEPARATELY